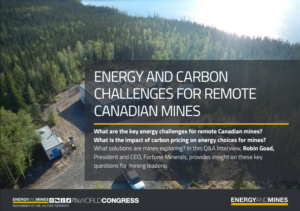 "The imposition of carbon taxes will regrettably be very punitive to northern mining sites where there are little or no viable alternatives to fossil-fuel based energy systems."
In this interview, Robin Goad, President and CEO of Fortune Minerals, provides insight on these key questions for mining leaders and low-carbon energy providers.
What are the key energy challenges for remote Canadian mines?
What is the impact of carbon pricing on energy choices for mines?
What solutions are mines exploring?
Complete the form to download the interview