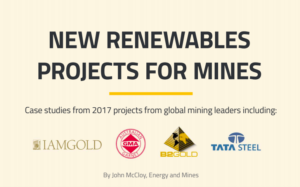 As concerns over energy security and costs grow, the mining industry is increasingly prioritising the hybridisation of renewable energy sources with its traditional means of power generation.
As recent projects show, renewable energy allows miners to address key concerns over fuel transportation costs, grid instability and power reliability for off-grid sites. It also assists in fulfilling sustainability and social license goals which are becoming increasingly important for the global resource sector.
This article focuses on recent case studies from IAMGOLD, GMA Garnet, B2Gold and Tata Steel, that demonstrate the benefits, business case and shortened project paybacks of recent projects.